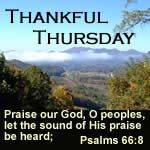 I am thankful for the internet! No, not because I can blog, but because of the internet radio. I've discovered three wonderful positive Christian music stations that have become my favorite stations to listen to especially while at work.
I'm thankful for the bright sunny day we had yesterday. Ok it was still cold, we barely reached 5*C and I slept through most of the day anyway BUT when I did wake up at around 4pm it was still sunny with a clear blue sky. FYI: I work nights thus sleep days.
I'm thankful for my husband, he completes me. When I feel run down or dazed, he's always there to put his finger prints on my glasses.... for some reason, whenever he does that it makes me laugh :-)
I'm thankful that I'm finally getting my blogging mind back... been blogstipated for quite some time now. Don't know what I would have done without the blog-hops.
Thankful Thursday (blog-hop) is hosted by
Bug's Eye View
&
Greg's General Store
.