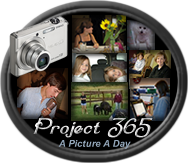 I must say, even though I barely managed to keep up, I'm sort of sad to see we're reaching the end of the year in pictures. ... it was tough keeping up though, but fun beyond compare!!
Project 365 is a photo a day taken and posted at the end of each week, though in my case, it's been a photo when I remember to take one and posted when I finally kick myself in the butt to get moving. Project 365 is hosted by
Make music from your yeart to the Lord
and I would strongly recommend joining in this fun event next year if you're up for a real challenge!!